A whole week off school; a week of opportunity to explore London and enjoy its many family-friendly activities. There's so much to choose from, we've put together a list of some top choices to help you plan a half term that pleases all ages.
imagine festival: Southbank centre
Twelve – yes 12 – days full of family-friendly fun are coming to Southbank Centre as the Imagine Festival returns. A cornucopia of children's theatre, literature and music, workshops, games and activities for ages 0-12.
Happily, over 50 percent of the programme is free!
When: 13-24 Feb
Where: Southbank Centre, Belvedere Road, SE1 8XX
Ages: 0-12 (activity dependent)
Cost: varies, see website
More information: website
big kid camps at Maggie & rose
Maggie & Rose's fantastic family members' clubs run Big Kid Camps open to non-members.
Chiswick club is for kids aged 4-8 to be dropped off for the day, with camp themes ranging from Spin Painting to Harry Potter. Kensington offers morning (9.30am-12.30pm) and afternoon sessions (2-5pm) designed for 3-6 year olds to be dropped off, with themes from Monster Mash Music to Pollock Pumpkins.
When: Half terms and school holidays
Where: Club locations
Cost: Chiswick starting from £49 per day; Kensington £50 for members and £72 for non-members per session; both include homemade lunch or dinner and snacks.
More information: website 
Family Ukulele Workshop Watermans Art Centre
Make, learn, play and perform on your own fully working ukulele, made from a spread tub! In the workshops TUBUP bring everything you need to make your own TUB-Ukulele.
When: 20 & 21 Feb, times vary
Where: Watermans Art Centre, 40 High St, Brentford TW8 0DS
Ages: 5+
Cost: £7 / £6 per child (must be accompanied by an adult)
More info: website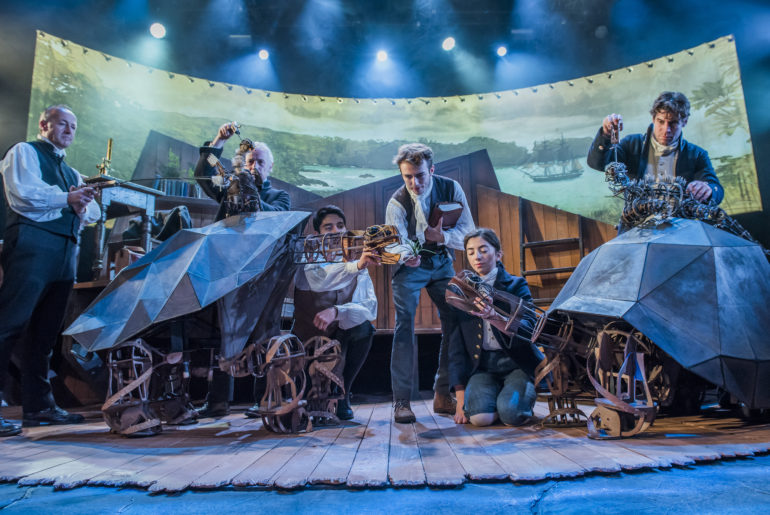 the wider earth: natural history museum
Almost last call to see this brilliant play at the Natural History Museum, which ends 24 Feb.
Click here to read our review.
Creative Workshops at Kite Studios
Clay camp, screen printing workshop, castle construction and puppet portraiture and more. Kite Studios has a great variety of creative workshops scheduled.
When: 18-22 Feb
Where: Kite Studios 2b Bassein Park Road London W12 9RY
Ages: 4-13 years old
Cost: £15-£30
More information: website
indoor play centres
Need a couple hours respite from crappy weather to let the kids burn off some energy while you (hopefully) get a few minutes to yourself at a cafe table to enjoy a coffee? Check out our roundup of top indoor playcentres in London.
ChemFest 2019: Science museum workshops
To celebrate 150 years of the Periodic Table of the elements in 2019 a festival of chemistry is being held at several sites in South Kensington. Half term workshops will be held at the Science Museum including explosive shows, storytelling and chemical experiments.
When: Daily during half term
Where: Science Museum, Exhibition Rd, Kensington, SW7 2DD
Age: 3 and up
Cost: free
More information: website