Do your kids love dinosaurs? Are they fascinated by animal facts? Do they love pretending to be a vet? If so check out our reviews of two February half term activities we tried at the weekend…
By Amy Brotherton
Animal Hospital Roleplay at London Zoo
If your kid loves playing veterinarian, Vets in Action is an ideal set of activities to seek out this half term. Included in the standard London Zoo admission price over half term, there are three hospital stations, each in different areas of the zoo. When you arrive you'll be given a card which features a map of the vet stations, and spots for a sticker your kid will collect after attending each one. At the triage unit, children are suited up in scrubs (my daughter was thrilled that they let you bring home the paper face mask and gauze hair cap) and take their place in front of a crate which contains a meerkat.
Hopefully this goes without saying, but just to make clear, none of the animal your children will examine are actually real! A real live zoo vet leads the wanna-be vets through a series of health checks on the meerkats. This involves using a pen light, which the kids clearly love using, and they carried out their checks fastidiously.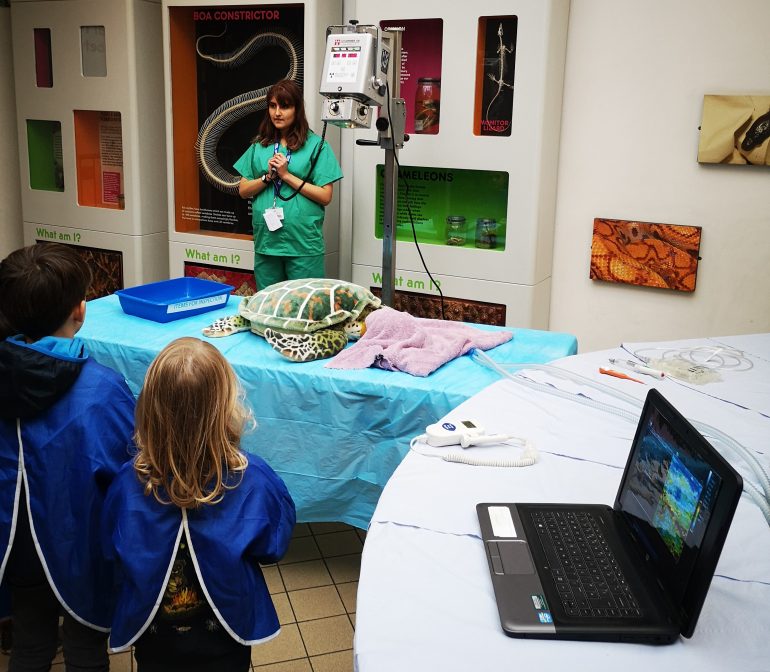 The next station we visited involved standing inches from a very realistic looking sedated lion. This lion had been attacked and needed his wounds cleaning. Because the lion seemed so real only one kid in the group we were with was willing to approach and help the vet!
Our last vet stop involved giving a poorly sea turtle an exam and an x-ray to find out what was causing him such discomfort. All three animal hospital stations were informative (for adults too!) and had my four-year-old engaged. They are fairly quick in duration, but that can be a good thing when teaching small children about animal medicine. They are an interesting set of activities to enrich your day at the zoo and come away with new appreciation for all that the vets do.
Erth's Dinosaur Zoo at Southbank Centre
While waiting for this show to start at Queen Elizabeth Hall at the Southbank Centre, my seven-year-old was bouncing up and down in his chair while my four-year-old sat nervously peeking out from behind her hoodie. Dinosaurs would soon be appearing on stage in front of them. Would they be scary? Would they roam around the theatre? We soon found out.
Erth's Dinosaur Zoo is an Australian production that's travelled the world, bringing its realistic looking dinosaur puppets to an international dino-loving audience. For this week the dino zoo is in London as part of Southbank Centre's Imagine Festival. The air in the hall is hazy and smells somewhat of a zoo enclosure (maybe that was just the children), odd trees grow from the stage that resemble alien asparagus.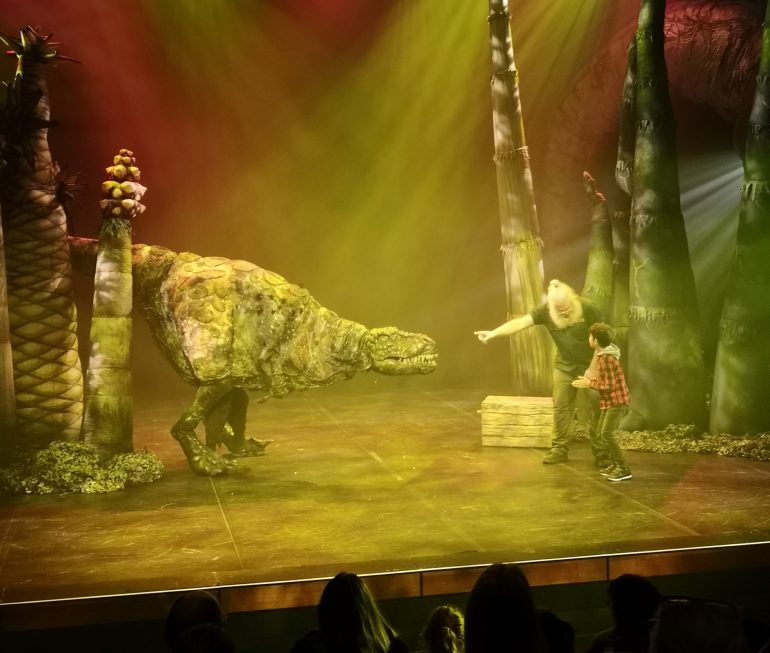 Soon a friendly Aussie zookeeper appears and puts everyone at ease with his joking manner and joy for the subject matter. From the beginning kids are called up on to stage, to help out with various tasks, some more daunting that others. Dinosaurs of varying sizes are brought out by their puppet masters and introduced.
The show is packed with dino facts – this is not children's theatre – it is more an immersive zoo talk about dinosaurs with jokey banter and volunteering opportunities. Amazingly, neither of my kids got scared. Afterwards the dino handlers brought the two adorable baby dinosaurs into the theatre lobby so all the kids had a chance to get an up close look. It was a bit of a mob scene, this is no genteel photo opp situation, but it's not every day that a kid gets to stroke a baby Triceratops on the chin.
We were invited to attend these events.