By Amy Brotherton
London Zoo has long been a favourite family friendly activity in London, great for all ages and you never have time to see it all so there's always something to return for. A new Animal Adventure Zone has opened, which will be a hit with the younger crowd, as it offers great child-height animal enclosures so kids can see a variety of critters up close. There are also new play elements, daily zoo keeper talks and animal displays, and plenty of pygmy goats to pat. Add it to your list of things to do with kids in London, especially if you have pre-schoolers.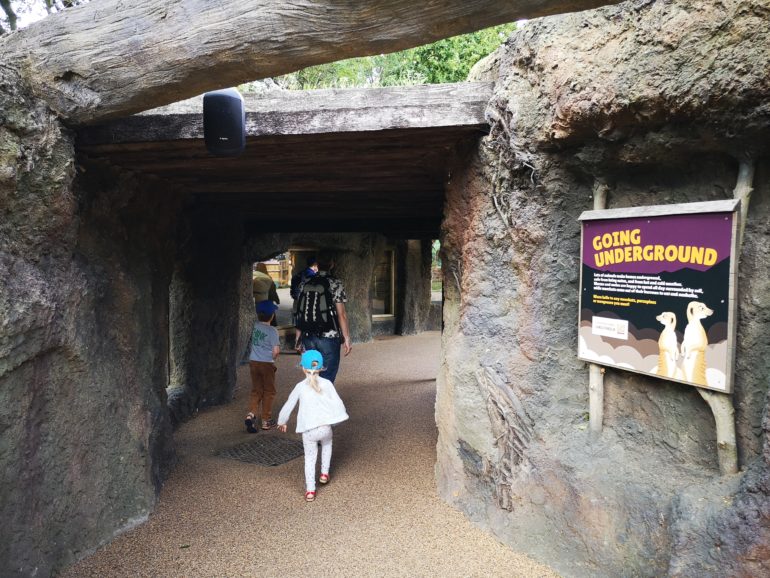 This is an area that was in need of revitalization after a fire ripped through the previous Animal Adventure area in December 2017, killing an aardvark called Misha as well as meerkat brothers Robbie, Norman, Billy and Nigel all died. Actually, the brothers are presumed dead as they were never found. Join me in hoping that they somehow managed to escape the blaze and are alive and well together basking in the sun. The good news is that now, in the summer of 2019 a new Animal Adventure area has risen from the ashes, feeling brighter and refreshed with several new features and cafe kiosk, amongst some bits that will be familiar if you'd visited it previously.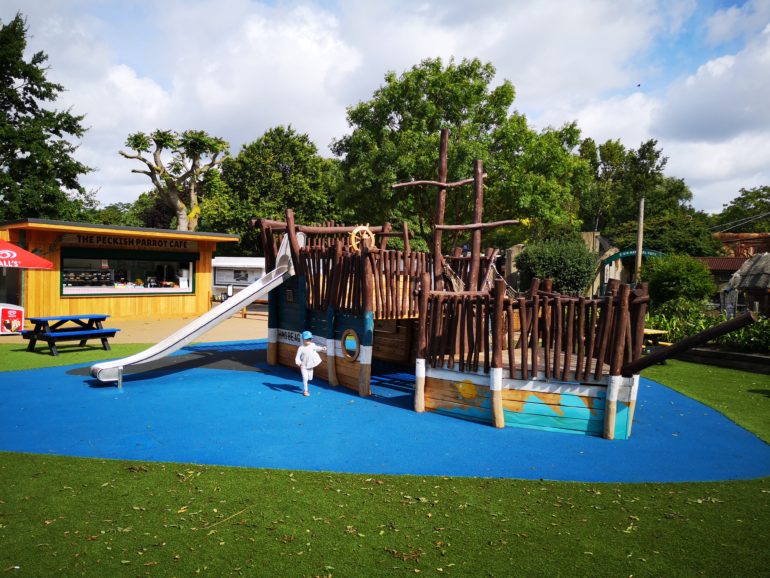 The animals on display include coati, mongoose, porcupines, meerkats, owls, and a farmyard area including kune kune pigs, pygmy goats, llamas, donkeys and more. Play areas include a wooden ship called the HMS Beagle (Darwin's famous boat) and play elements throughout the zone designed to allow kids to mimic animal movements like swinging from branch to branch. (The only problem my kids had with the swinging bit was that there are higher and lower grips and they got hit in the face by the grips in front of them as they tried to swing through).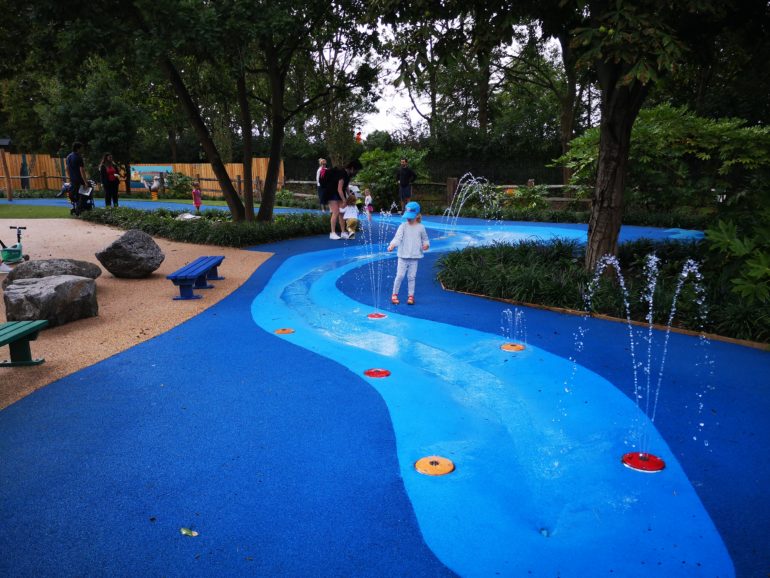 There are a couple animals springy things to sit on, and a small play fountain area. Before you pack up your cozzies and towels and such to haul around the zoo, be aware that there are just a few gentle plumes of water here, which is ideal for really young kids, but mine (3.5 and 6.5 years old) didn't think it was worth the effort to get changed to play in them. Overall I would say the play areas of the Animal Adventure zone are best for kids 5 and under. Having said that there are a couple fun photo-opportunity spots – a big hot air balloon and a meerkat photo cut out, but both were too tall for my 3.5 to see over the top of, so an adult had to go behind and lift her up. It would be ideal if there were footstools available at these so the younger ones could participate on their own. Oh, I just realised the hot air balloon is called Misha's View. Surely named after the aardvark killed in the fire. Sob.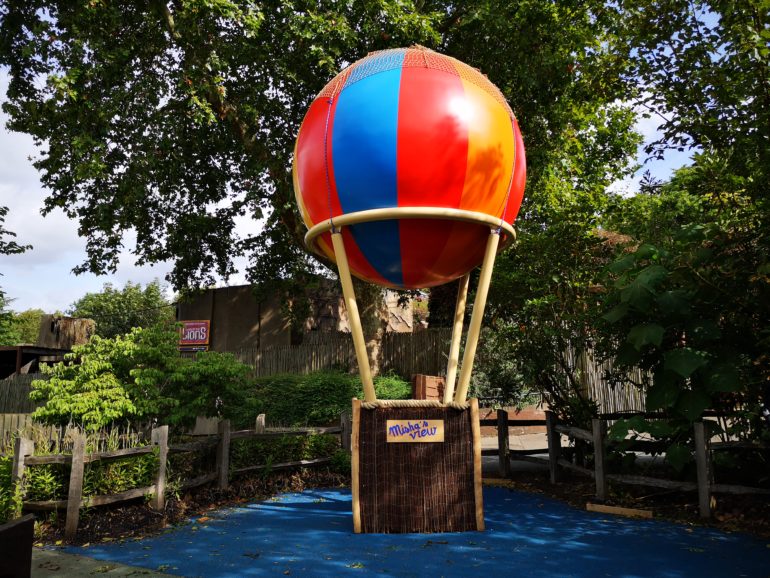 Speaking of animals – we are at a zoo afterall and it's not just a playground. This is what my older child found the most engaging part. He ran about reading the information about the different species that was hung about, and there is a little hunt the can do to find animal-based tiles on the walls. Give him any time of hunt and he's happy. We all enjoyed watching the porcupines up close. Mother Nature, you are wild. Petting the pygmy goats was also popular, as was listeing to the kune kune pigs loudly snort to each other. There is a little amphitheatre area where zoo keepers have informative meet and greet sessions with some of the critters that live in the Animal Adventure zone. We were there in the morning and there wasn't one on until a few hours later so we didn't make it back as my daughter was dead-set on getting to the giraffes, but we always enjoy the talks at London Zoo. Animal info talks are held at different times throughout the zoo (get a schedule when you arrive).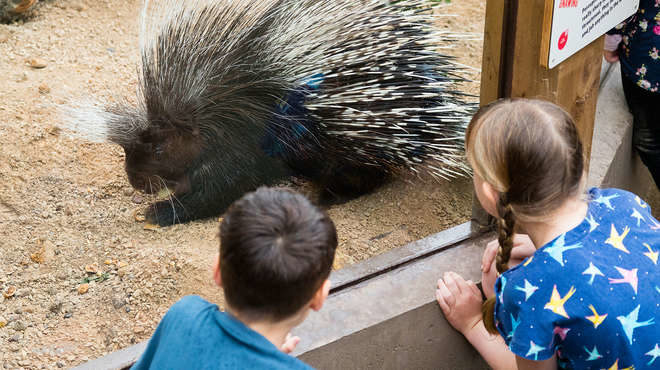 Welcome back, Animal Adventure Zone. A lovely space to introduce young kids to the zoo experience. Note that this zone is towards the back of the zoo, so if you want it to be your starting point just put on blinders and get everyone back there then work your way forward!
Two other things to draw your attention to at the zoo before August ends:
If you haven't already been, the free (with admission) Zoo it Yourself area is really cute, and both my kids loved it. There are several different areas where kids can try their hand, role playing different jobs at the zoo including gardener, zoo keeper, builder and animal doctor. When we visited there were a couple staff on hand, leading kids through various scenarios. My daughter was absolutely thrilled to get to pretend to be an animal doctor and check the health of a meerkat, making sure it's eyes were clear, giving it a vaccination and listening for potential foetal heartbeats to see if it was pregnant. I think this role play area, which closes on 1  September, would be excellent for the zoo to have year round.
London Zoo Summer Family Festival is on from Friday 30th August to Monday 1st September. In addition to exploring the new Animal Adventure zone, kids will be able to role-play being a keeper with the 'Zoo it Yourself' activity, take part in storytelling, a teddy bear's picnic, craft-making and much more. Go wild the last weekend of school holidays.
For more information visit the ZSL London Zoo website.
We were invited to visit the Animal Adventure zone.