By Amy Brotherton
In the Beasts of London, the Museum of London's splashy new immersive experience, visitors travel through time from the Roman era to present day and discover how animals have shaped the city and its history. Lions, elephants, horses, rats, foxes, pigeons and more are all here and its the beasts who narrate the show (with a little help from a celeb-packed voice crew).
Like many parents attending a family museum exhibition we sort of broke the rules here. Well, we broke the recommended guidelines. The Museum of London recommends Beasts of London for ages 7 and up and after touring through it with my 3 and 6 year olds I do understand why (albeit not for the reason the museum gives, which is that some of the content may be unsettling for younger kids, mine didn't flinch at anything). They enjoyed the flashy visual experience and the surprise of what would greet them in each area as we made our way through. But the magnificent narration and details put into each setting deserve a more attentive audience.
The history of animals in London and the roles they've played in shaping the capital is certainly a fascinating one. I found it interesting; betwixt shushing my kids to be sure others in the room could hear as well. We certainly weren't the only families there with under 5s in tow. I witnessed first-hand some parents in the group ahead of us battling with a squirmy shouting toddler, which had to have been quite annoying to the visitors trying to follow the narration.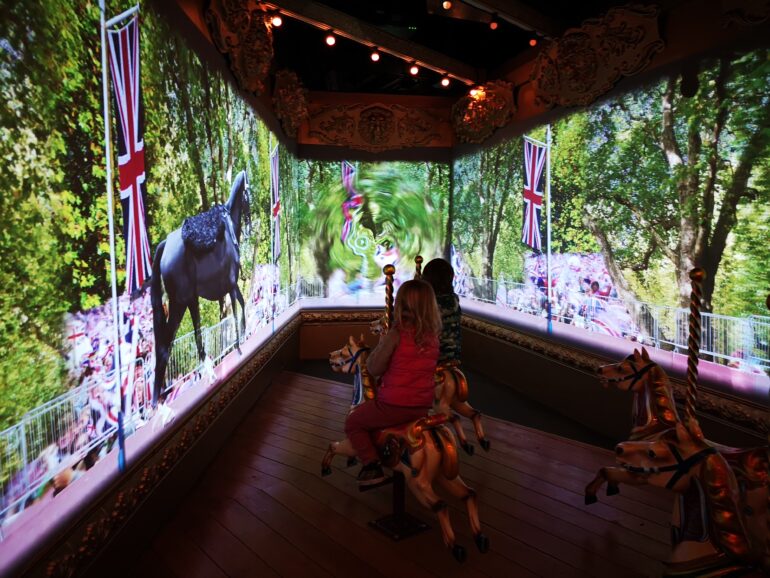 Inspired by objects drawn from the museum's collection and working in partnership with Guildhall School of Music & Drama, this show is made up of nine episodes, each telling the story of the capital from an animal's perspective.
Your ticket gives you a 30-minute time slot and you can arrive at the entrance to the experience at any point within these 30 minutes. Once you're there, you will need to wait for a tour to start. Tours begin every seven minutes for 12 people at a time. The whole experience lasts around an hour. If you want to jump ahead or repeat a room or pop to the toilet, this is all possible. They've cleverly put a digital countdown clock on the outside of each room so you know when each time zone starts afresh if you'd like to rejoin.
My kids' favourite room was about horses in London. They sat on carousel horses as digital imagery wrapped around the room made it feel as though they were moving. They were also fascinated by the rowdy Victorian tavern scene in which we learned about – and digitally witnessed – rat baiting. This is probably one of the rooms the museum had in mind when it gave the age recommendation but my kids didn't seem to realise what was actually happening to the rats, they thought the quick little dog and his rodent pals in the pit were having a grand time racing about. They also thought the giant pigeon statue constructed from black cab parts was pretty impressive although they were then ready to move on seconds later. Fortunately the corridor connecting all the zones of the exhibition has some cool visual effects and memorabilia to look at so you can hang out in the in-between if needed.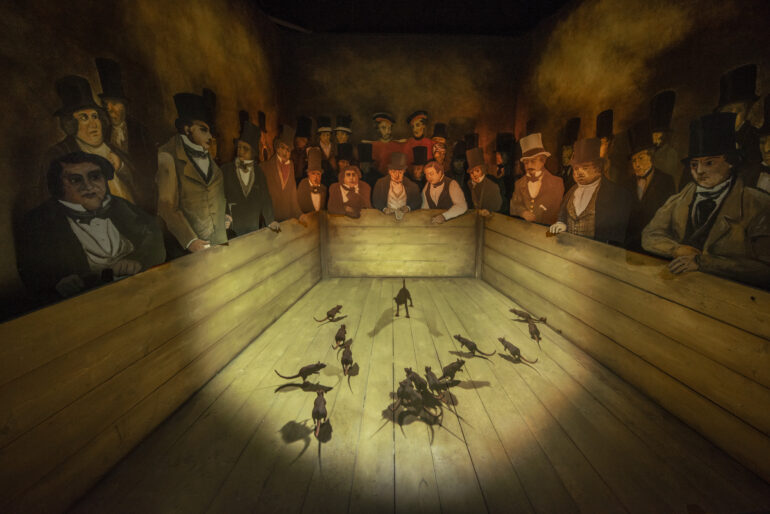 The animals throughout the experience are voiced by well-known names such as Kate Moss, Brian Blessed, Pam Ferris, Nish Kumar, Stephen Mangan, Angellica Bell and Joe Pasquale alongside actors from Guildhall School. My only complaint about the exhibition was that the narration sometimes was difficult to hear over the background music and/or the recordings playing in the neighbouring rooms. I did think at one point headphones would've been brilliant, as there are some amazing voices and affects to be heard. But that brings with it technical difficulties and expense a museum most likely wants to avoid.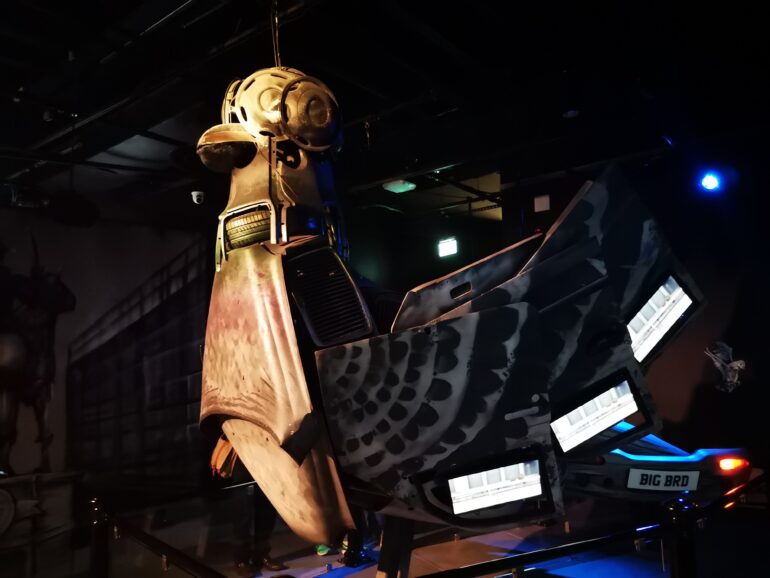 Beasts of London
Museum of London
Runs until 5 January 2020
Variable pricing; Family tickets from £20
For more information visit the museum's website here.
We were invited to visit this exhibition.