by Anna Scott
We're guessing this activity might be quite high on your to-do list this summer holiday. Not only do we have a great selection of local pools to choose from, but living in the city need not mean going without taking a dip in outdoor waters. If you have access to wheels, there's even more choice outside of the city. Whether you're after wave machines or slightly calmer currents, here are a few pointers to help you plan where to swim in London this summer.
Where to Swim in London
Local Pools
Fancy taking the kids for a morning dip? There's nothing wrong with using your local council-run pool. Pretty much every borough is catered for in this respect. Visit your local council and see what swimming facilities they have on offer.
In the meantime, dip your feet into some of our top choices…
Outdoor Pools
Yes, they do exist in London, which is a very good thing indeed because on an extremely hot day, the craving for an outdoor swim takes over and nothing else will do.
After reading about it, I can't quite believe I've never been to Hampton Pool before. It describes itself as "South West London's best kept secret" (people really need to shout about it more as this is probably why I've never visited) and sounds idyllic. They keep a section open for general swimming as well as running holiday activities for the kids, and you can even visit in the colder months as it's heated 365 days a year. To top it all off, the pool is situated in two acres of woodland next to Royal Bushy Park. Need I say more?
Formerly known as Uxbridge Lido, this was re-opened in 2010 after having been restored to its former 1930s glory and is now reputed to be one of the best lidos in the country. We are very lucky west Londoners indeed.
Pools on the Park – Richmond
This borough appears to be very well served when it comes to outdoor swimming. The leisure complex is in Old Deer Park and within easy reach of the train station.
Now, I've walked past the queues for this place on a warm day but have never been brave enough to wait around in the hot weather to take a turn. If you're a more patient person, head on down to this Hyde Park institution along with nearly every other Londoner.
Technically not west London but rather west of London, this was my local outdoor pool as a youngster. It appears to have spruced itself up quite a bit since then and now looks absolutely stunning—well worth a drive up the motorway.
Hampstead Heath Swimming Options
Choose from four options in Hampstead Heath: Parliament Lido, men's pond, women's pond or the mixed pond.
During the summer holidays the outdoor pool will be open weekdays 10am-6pm and weekends 10am-4pm. The opening of the pool is weather dependant, and will open during sunny weather when the air temperature exceeds 23 degrees.
London Fields Lido is a 50m Olympic size, heated outdoor swimming pool open all year round and located in Hackney, central London. The swimming pool has lane swimming available all day, swimming lessons for children and adults, one-to-one swimming lessons. Facilities also include a café as well as a large sundeck and sunbathing area.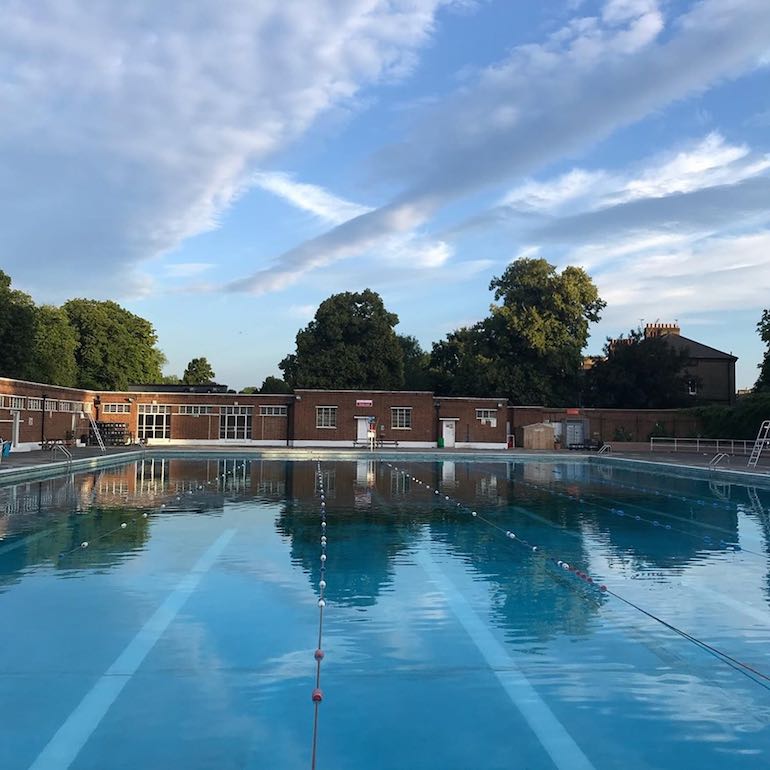 Art deco Grade 2 listed buildings that house a cafe and studios surround a 50m pool. Swim lessons are available and the studios offer exercise classes and activities year round.
Tooting Bec is the UK's largest freshwater pool. At 91m long, the lido offers a cafe, lounge area, paddling pool and free parking.
Leisure Pools
To define "leisure pool", I've gone with places that have additional features such as water slides and wave machines. Brentford Fountain Leisure Centre has both of these on a smaller scale in their own leisure pool, but here are a couple more options a short distance outside of London.
Situated in Windsor Leisure Centre, this is another of my childhood favourites and has all the classic leisure pool staples (fountains, slides, waves). It's very easy to get to by car, being just a short trip down the M4.
Coral Reef Waterworld – Bracknell
Another Berkshire one, this has heaps of facilities suitable for older and younger children and, judging from the photos and features listed, appears to be the pick of the bunch when it comes to water parks in this part of the southeast.
And one last thing…
Outdoor or "wild" swimming might not be your thing but perhaps you're feeling a little bit adventurous. If so, the Wild Swimming site lists potential spots all over the country (although, to be honest, I don't know if I'd be brave enough to swim in the Thames). And one last special mention for that famous west London landmark, the rather confusingly named Ruislip Lido. Of course, it's not a lido in the sense of the outdoor swimming pools mentioned above, but a 60-acre lake with its very own sandy beach on the edge of Ruislip Woods. At present, swimming is not permitted but there is a water splash pad, and this is still a natural beauty spot that would be perfect for a picnic.
If you're planning on visiting any of the above pools, we highly recommend you check the sites first, not only for opening times and price information but also to make sure you're not going to gate-crash any pre-booked activities or classes. And if it's a hot day, there's a very good chance you won't be the only person taking their family for a dip in the pool—aim to leave early or be prepared to join the queue!
Updated July 2019.