By Kerry Law
Ahoy me hearties! All wannabe pirates should hot-foot it to the Museum of Childhood this Easter before A Pirate's Life for Me sets sail for good on the 22nd of April. During the Easter school break young swashbucklers are invited to partake in pirate workshops, lively storytelling sessions and there's even Pirate Camp!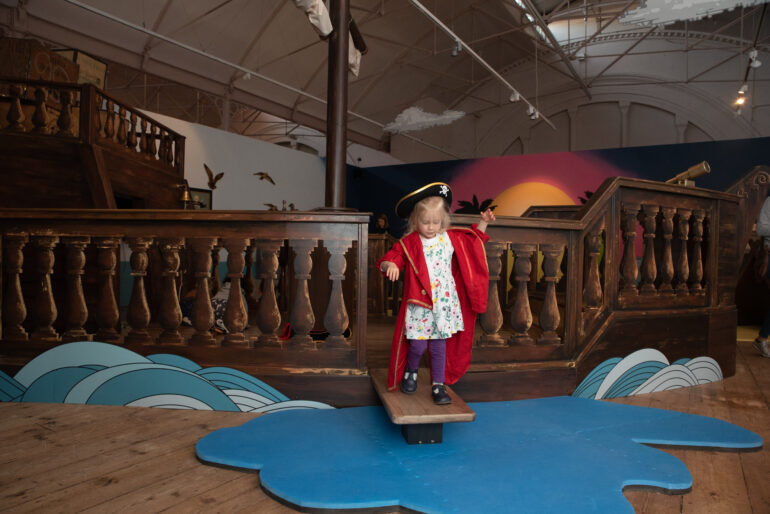 This is the first major exhibition at the museum which is dedicated to fictional pirates in popular culture from the Victorian era to the present day. Over 80 objects are on display from the V&A's collections and key loans of famous toys, original costumes, games, books, illustrations and comics spanning over 300 years.
They may be ne-er-do-wells in reality, but pirates have always been a source of fascination for children – whether it's Captain Pugwash, Long John Silver, Captain Hook or Jack Sparrow. What's betting your child's toy box has at least one pirate toy lurking within, or a favourite pirate costume in the dressing-up box, or a pirate story on the bookshelf.
The exhibition's immersive and playful set design leads its young visitors on a journey from a seaside tavern, where they will discover a mysterious map, to a pirate boutique, a pirate ship and finally treasure on a tropical island. Playmobile features strongly (being sponsors of the exhibition) as well as LEGO so your child may recognise a few of their own favourite pirate toys now elevated to the status of museum artefacts.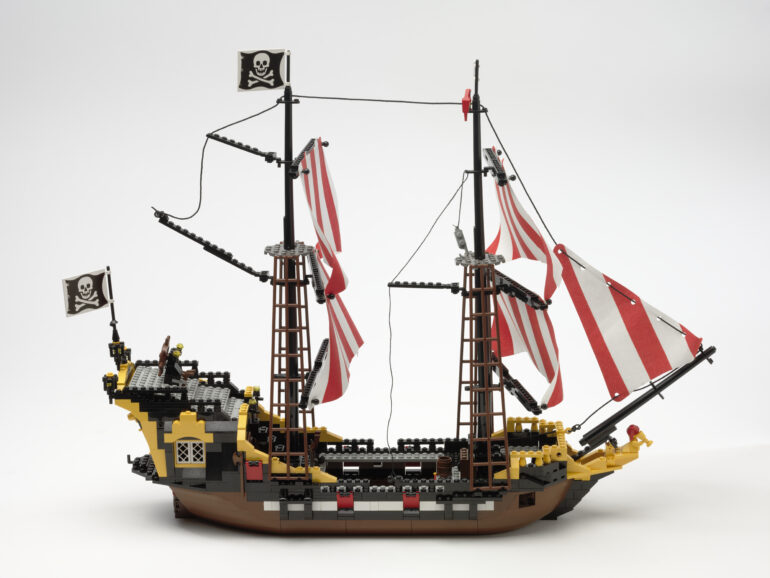 Exhibition highlights include the first known painting of comic strip and TV favourite Captain Pugwash; The Good Intent, a carved wooden pirate toy ship from the 1920s; and some real treasure (well, not confirmed pirate booty, but eight Spanish-American gold coins worth four doubloons which pirates would have been thieving in their day).
Listening posts located throughout the exhibition intend to steer children through the journey and give you options to choose your next step. I'm not entirely sure this was clear enough for my little ones who had more fun zooming through the gallery, occasionally stopping to look at toys or games, but spending a disproportionate amount of time on the large-scale pirate ship where children can pop on a pirate hat, grab hold of the ship's wheel, walk the plank and basically tear around!
A Pirate's Life for Me is the museum's first exhibition featuring elements co-designed with The Children's Forum, a V&A Museum of Childhood initiative in partnership with Globe Primary School in Bethnal Green. The museum also worked with Hackney Pirates, a charity that supports children's literacy skills, on an additional audio story to help tell the story of the exhibition.
Pirate activities
For the Easter holidays, the Museum of Childhood is running some special workshops and a half-day 'pirate camp' inspired by the exhibition:
Half-day Pirate Camp: 16th – 18th April, 10.00-12.30 / £17.50 per child per day, ages 5-11yrs. Train yourself to be a pirate in this half-day camp with the team from Chimp & Bee. Create your own pirate outfit, learn some pirate moves and songs, and perform the finale on the pirate's ship in the museum.
Pirate themed workshops are also running in which children 4yrs+ can make their own paper sack pirate costume (on 8th and 12th April), or their own pirate bandana (9th, 10th and 11th April). Both workshops cost £7 per child with multiple slots throughout the day.
Free, drop-in interactive storytelling is also on board. The Great and Odorous Captain Putrid (9-11 April) features an adventure with the notorious Captain Putrid to help him get his stink back! A fun, interactive storytelling with opportunities to join in and sing along for families. They'll also be interactive storytelling sessions for under 5s inspired by the pirate exhibition. Check the website for times and further details.
The free pirate fun continues with the workshop Decorate the Pirate Ship (19 – 22 April) – Design, create and add to a giant cardboard pirate ship on the Marble Floor of the Museum. An activity designed and created by artist Laura X Carlé.
Entry to A Pirate's Life for Me is FREE. Pirate Camp and some workshops are charged for and require advance booking.
For more details and online booking click here.
The V&A Museum of Childhood is on Cambridge Health Road, London E2 9PA.