A campus of old codebreaking huts may not immediately strike you as a fun place for a day out with kids near London. But our writer discovered that Bletchley Park has once again cracked a difficult code – creating an engaging attraction that both kids and adults enjoy.
By Amy Brotherton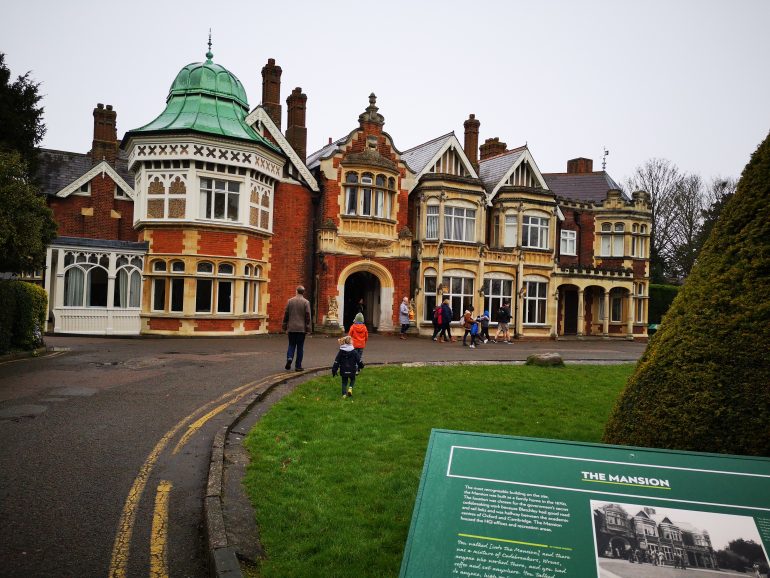 My knowledge of Bletchley Park prior to our visit mainly came from watching The Imitation Game; an intriguing film about the codebreaking collective. I knew my husband would find the visit interesting and hoped there would be plenty of levers and buttons to keep the kids (ages 4 and 7) occupied while we geeked out on this impressive chapter in history. I also was aware there was an outdoor play area, kids activities and a café – key elements for a successful day trip with kids.
It turns out I underestimated how well the educational aspect of this place is set up for families, and how much my kids were interested in war history, coding and technology! They found the many interactive displays, videos and stories so engaging.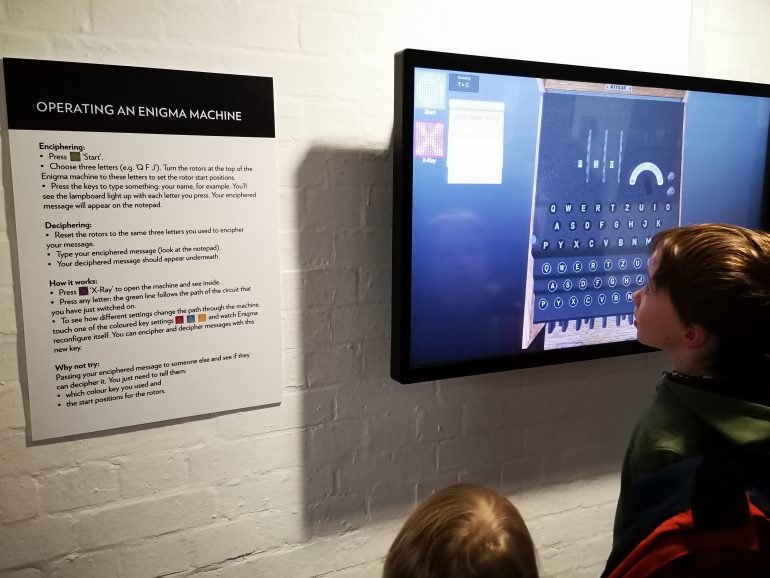 When you arrive and drive through the parking lot barrier, there is a utilitarian look about the place but once you leave the welcome centre it's like you've stepped into a hidden world. A pond sits in the centre of the campus, surrounded by landscaping. In the distance you'll see a very grand house which was taken over during the war to use for decoding efforts, as the location was deemed perfect for the secretive mission. There are around a dozen huts on the campus, that have a portable school building look, where code breakers worked tirelessly in often freezing conditions.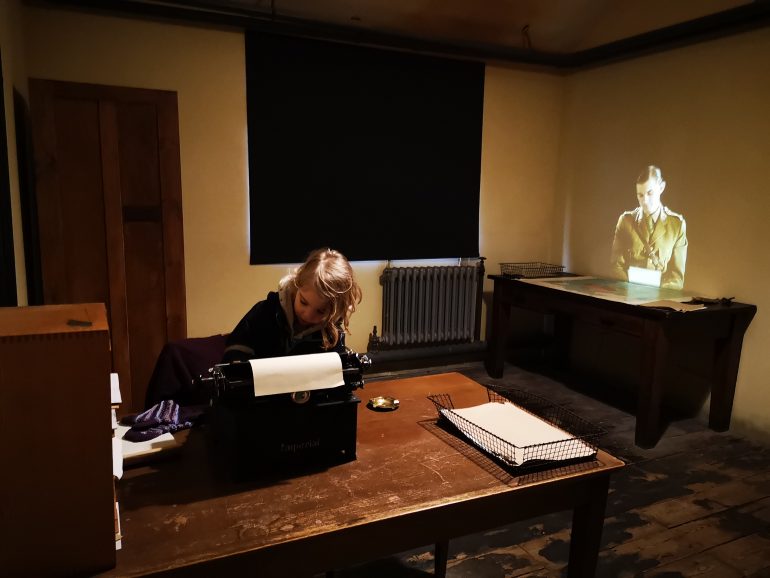 On arrival, you can pick up 'top secret mission packs' for the kids (£1 each) which will guide you to the highlights whilst providing activities and fun facts for all the family to enjoy. My kids loved these packs, and they definitely enhanced the day for them. Some activities they did whilst we were walking around, others were best done sat in the café during a break. Also on arrival the whole family can pick up Multimedia Guides (included in admission) and thankfully they have ones designed specifically for kids that include young Codebreaker challenges, puzzles and storytelling. We didn't use these unfortunately as kids were happy with their mission packs and exploring. Next time!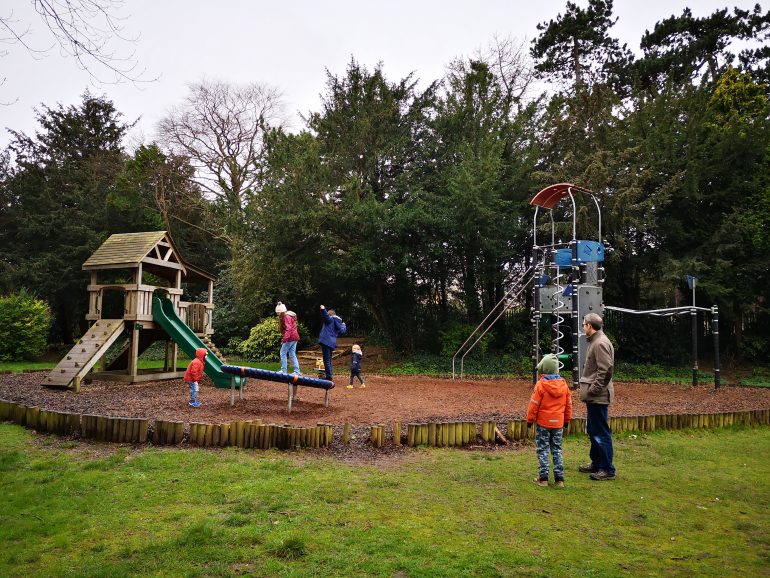 You cannot come here an leave feeling anything other than amazingly appreciative of Bletchley Park's historical importance. It is the home of British codebreaking and a birthplace of modern information technology. It played a major role in World War Two, producing secret intelligence which was vital to Allied victory. It is a heritage attraction with over 250,000 visitors from around the world each year.
The day we visited during February half-term the parking lot was almost full by mid-morning and there were coach buses arriving depositing eager tour groups at the visitor centre. Fortunately It didn't feel crowded once we were walking about, it is spacious enough to accommodate large numbers. Which is a good thing as during the war nearly 10,000 people worked in the wider Bletchley Park organisation including famous Codebreaker Alan Turing. Here you can visit his humble office space in one of the huts and see a collection of some of his personal belongings. His teddy bear 'Porgy 'was popular with the kids. He bought it as an adult – understandable to need a cuddle amongst all that stress.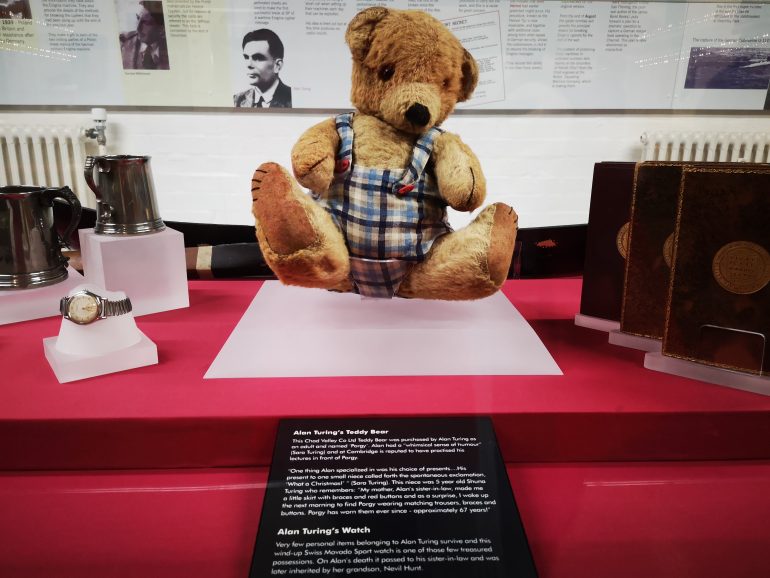 While Alan Turing and several other male codebreakers are rightfully famous for their work, it was mainly run by women!  By 1945, 75% of the staff were women. Women working in cramped, smelly, noisy huts for long shifts (often overnight) and extreme temperatures. Women working under extreme literally life or death pressure to do their jobs quickly and accurately. They do a good job here of educating visitors about the female workforce and their accomplishments. As you walk through the huts you'll see knit fingerless gloves and cardigans draped over the desks – a nice relatable touch!
In one building there was a room full of codebreaker related games for kids to play. I was impressed with the selection of these and how they really worked the kids brains! No fluffy crafting here, it was a nice change. My son particularly liked creating his own Morse Code and playing Binary Bingo.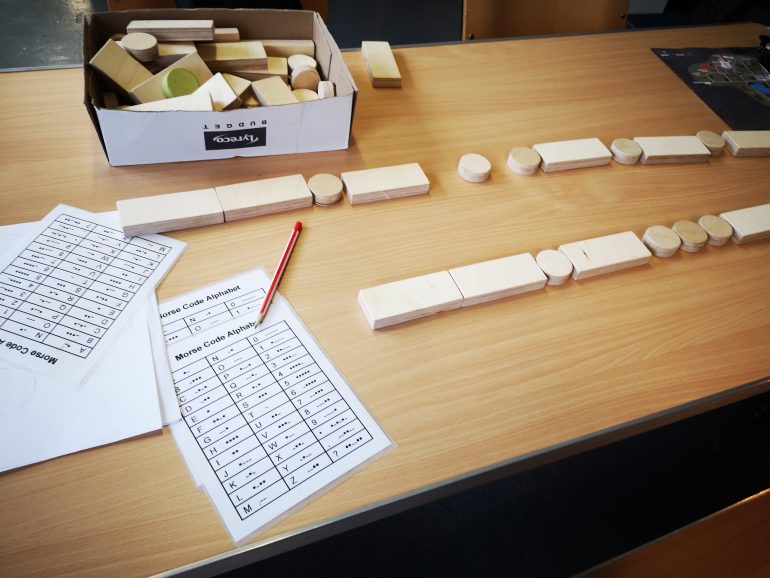 We spent a full day at Bletchley Park, there is so much to explore. So it's brilliant that the tickets here are valid for unlimited free returns for a year! If you'd rather not drive back to London at the end of the day, or you'd like to pair this activity with another day out in the area (Woburn Safari Park is a short drive away) there are actually family-friendly budget hotels with lake views nearby.
I didn't realise there were any Premier Inns on lakes, but in southern Milton Keynes there are two! Milton Keynes South and Milton Keynes South West hotel. My kids like staying at a Premier Inn because they give goody bags when you check in (colouring sheets, crayons, card games, and some other plasticky stuff that of course they love briefly but ends up in the bin within days) and they love to choose a plethora of pastries, juice and cereals at breakfast. Kids eat free with paying adults.
My husband and I like the family rooms as they are spacious and clean. Each kid gets their own single bed. I like that the chain has refillable pumps of shampoo/body wash in the bathroom instead of individual plastic bottles, which are so wasteful. And for Londoners it's lovely to look out your window and see a lake, for a budget price. We stayed at the South West hotel and found the staff very friendly. It is a quick drive from Bletchley Park.
EASTER FAMILY ACTIVITES AT BLETCHLEY PARK
Over the Easter holidays there will be many family-friendly activities. You'll have the chance to take on the role of a codebreaker during WW2, crack secret coded messages, and plot on a map the fastest route for the Dispatch Riders to safely get their messages back to Bletchley Park. Drop-in sessions are open between 7-16 April, 11:00 to 15:30 and are suitable for 5-14-year olds and their families.
From 10-13 April, Nigel Amies, historical educator, will be returning to Bletchley Park to reprise his role as Morse Trainer and Drill Sergeant. Visit Nigel in the Mansion to find out more about WW2 kit and equipment. You can even attempt your very own secret Morse code message. Afterwards, make sure to join Nigel outside on the lawn to participate in the Bletchley Home Guard Drill – broom handles will be provided!
Pick up an Easter trail from admissions, where you'll have the opportunity to find codebreaking Easter eggs located around Bletchley Park. Once you've solved all the clues, you can collect a prize from the Information Desk.
Interactive family tours will also be on (dates vary, check website) suitable for families with children aged 5-14, lasting approximately 45 minutes and taking place outside.
BASIC INFO
Where: Bletchley Park, Sherwood Drive, Bletchley, Milton Keynes, MK3 6EB
Cost: Admission includes complimentary use of the Multimedia Guide plus an optional 1 hour, outdoor walking tour with a tour guide, subject to availability. Tickets booked online at least a day in advance of visit date receive a 5% discount on the standard on the day admission price. Adult advance ticket price is £19.95, children aged 12-17: £11.85, children under 12 are free.
Find online: Website / Twitter / Instagram
We were gifted our tickets and hotel room for review purposes.